Guitar and Vocals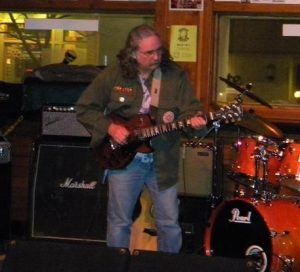 Jimmy's musical experiences began in the mid-1960s when he played what is now called "vintage rock" in club and dance bands in southwest Michigan. He was introduced to the blues in the late 60s while in Boston where traditional blues, Chicago blues, and the British blues players were all the rage. He was most influenced then by Eric Clapton's work with the Yardbirds and John Mayall's Bluesbreakers, the slide playing of Elmore James, and the early work of Kim Simmonds and Savoy Brown. He says,
"That's the great thing the British players did. They reintroduced Americans to American music, especially blues, which had become almost a forgotten genre, and they brought it to a new generation of listeners. I feel like they saved a 'national treasure' from extinction. I mean, here I was in Boston, hanging with some hippies and listening to music that originated an hour's drive from my home back in Michigan. It was fantastic."
Back home in Michigan he put together a five-piece blues band called "Justice" with drummer/vocalist Paul Moore, Prentice Danzy, vocals, harmonica & percussion, Tommy Johnson on guitar and Johnny Hammond on bass. They started renting halls and putting on their own concerts, eventually buying an old barn and calling it "Fat Boy's Coffeehouse" where they could play all they wanted, whenever and whatever they wanted. It was an incredible experience with some great jams and total freedom to improvise and test new ideas.
Jimmy went on to explore other genres and instruments (fiddle and mandolin), and has continued to play the region to the present day. He went through several phases: Rock, Folk, Roots Country, Blues power trios, and acoustic duos. He had a successful blues-rock band (The Mere Mortals) in the late 80s, a four-piece powerhouse band with his brother John on bass, Denny Anderson on drums, and keyboard great, Dave Cleveland. They were a hard-working band, often playing five or six nights a week and traveling all over Michigan in an old beat-up Ford station wagon loaded down with gear and exhausted band members.
He later went on to Irish / Celtic music with a band called Harvest Home. It was quite a learning experience trying to learn Irish fiddle, mandolin, and tenor banjo, as well as keeping up with guitar. The band played casinos, some clubs, the Irish Festival of Kalamazoo, and many St. Patrick's Day gigs when "everyone is Irish."
Harvest Home disbanded after a few years and Jimmy decided to go "full circle" back to the 60s where it all started for him. With noted drummer, Danny Diaz, and Johnny Hammond, his bass player from back in the Justice days, and Debbie Phillips on autoharp, percussion and vocals, they created a new venture called Jimmy & the Mortals and they're taking a refreshing trip down memory lane, back to the "glory days" of rock 'n roll. He adds:
"I'm really enjoying this new musical journey with my best friends and I'm looking forward to performing and taking the Mortals thing a step further."